Geraldine Craig
Professor of Art/Associate Dean of the Graduate School
Email: gkcraig@ksu.edu
Office: Willard 213 & Fairchild 103
1989, M.F.A. Cranbrook Academy of Art
1979-80, University of St. Andrews, Scotland
1982, B.F.A. Textile Design, University of Kansas
1982, B.F.A. History of Art, University of Kansas
Bio
Geraldine Craig is an artist and writer whose research focuses on the intersections and relationships between textile history, theory/criticism, curatorial work and studio practice. Her writing is formed by modes of knowing as a maker, with primary research interests contemporary art/craft and Hmong textiles, generating knowledge of craft practices marginalized in Western art history canons. As Assistant Director for Academic Programs, Cranbrook Academy of Art (2001 – 2007), she developed the annual Critical Studies/Humanities program in response to these kinds of broad intersections/ relationships seen in the MFA students' studio production each year. Craig was the 2012-2013 Dorothy Liesky Wampler Eminent Professor, James Madison University, and in 2010 was elected an Associate Fellow at the International Quilt Study Center & Museum, University of Nebraska-Lincoln, NE. She was also awarded the 1994-95 James Renwick Senior Fellow in American Craft, Smithsonian Institution, and has presented at conferences throughout the United States, Brazil and Denmark. Craig has written a monograph on sculptor Joan Livingstone (Telos: London), and published over ninety book chapters, catalog essays, articles and reviews (Art in America, Hmong Studies Journal, The Journal of Modern Craft, Surface Design Journal, Sculpture, among others). Her studio work has been exhibited throughout the United States, Europe, and Mexico, and she has received numerous grants to support her research and creative practice, including the Michigan Council for Arts & Cultural Affairs individual Creative Artist Grant. She has taught at Red Deer College, Alberta, Canada; College for Creative Studies, Detroit; the low-residency MFA, Vermont College. She was Department Head of Art at Kansas State University, July 2007 - October 2014, until she began as Associate Dean in the KSU Graduate School.
A few recent publications include:
Craig, Geraldine, "Stitching Hmongness into Cloth: Pliable Identity and Cultural Agency" (8,500 word book chapter), Projects of Power: Hmong Women, Gender and Agency, Chia Youyee Vang, Faith Nibbs, and Ma Vang ed. University of Minnesota Press: Minneapolis, MN. (publication pending 2014)
Craig, Geraldine, "Witty Agents" (catalog essay) "Lia Cook, Weaving and Innovation: Digital Fibers Converse with Neural Networks," Design Gallery, University of Wisconsin-Madison, February 1- April 6, 2013.
Craig, Geraldine, "Laos: Hmong" (book chapter), Encyclopedia of National Dress, Jill Condra ed. Greenwood Press: Westport, CT (2012): 416-425, 786.
Craig, Geraldine, "Neeg tawg rog: Linguistic consciousness in the Hmong diaspora," Textiles & Politics, Textile Society of America 13th Biennial Symposium 2012 Conference Proceedings, published by TSA/ University of Nebraska-Lincoln On-Line Digital Commons. Paper 671, (2012): 1-10.
Craig, Geraldine, "Anne Wilson." Grove Art On-line. Oxford Art Online. Oxford University Press. http://www.oxfordartonline.com/subscriber/article/grove/art/T2220567.
Craig, Geraldine, "A Safe Place to Play." Surface Design Journal, vol. 35 no. 2 (Winter 2011): 12-17.
Craig, Geraldine, "Hmong Textiles and a History of Meaning" (book chapter),
Quilts Around the World: The Story of Quilting from Alabama to Zimbabwe, Spike Gillespie ed. Voyageur Press: Minneapolis, MN (2010): 169-173.
Craig, Geraldine, "Patterns of Change: Transitions in Hmong Textile Language" (4,000 word article), Hmong Studies Journal, (2010): Volume 11:1-48.
Craig, Geraldine, "Material Evidence: A Phenomenology of Matter," Material Evidence exhibition catalog, Marianna Kistler Beach Museum of Art, Kansas State University (2010): 1-22.
Craig, Geraldine, "Political Craft," The Journal of Modern Craft: London, vol. 2, no. 3, (2009): 359-362.
For Full CV, click HERE.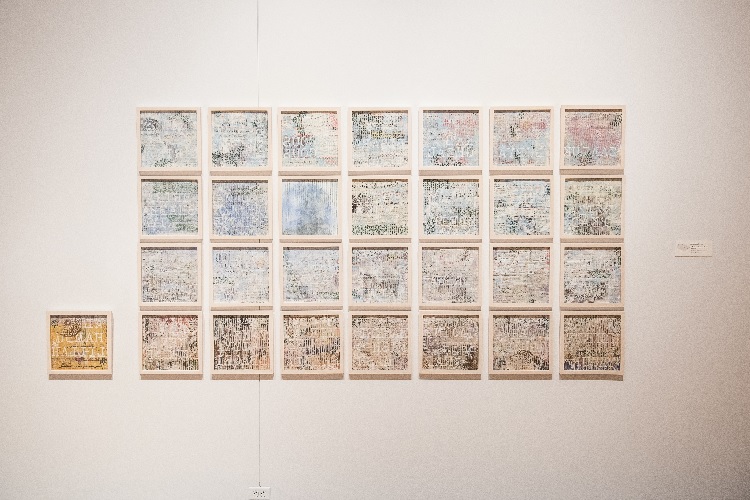 Moroccan Book of Hours, 2016
| | |
| --- | --- |
| Moroccan Book of Hours: 7 February, 2016 | Morroccan Book of Hours: 8 February, 2016 |
| Moroccan Book of Hours: 25 February, 2016 | |
The Back Side of Words

The Back Side of Words (detail)

Beach Museum of Art Permanent Collection, Kansas State University, Manhattan, KS

Root Nerve
Eve as an Invertebrate

Emprise Bank Collection, Wichita KS

Lot's Wife

Poetry, Language, Thought