Printmaking
Kansas State University Printmaking provides students with access to both traditional and contemporary methods of image making. K-State printmaking is built upon a rich history of print appreciation and technical mastery of print media. Various methods of Intaglio (etching), Relief (woodcut), Monotype, Lithography, Serigraphy (Silkscreen), Photographic, and Digital processes are open for exploration by students in their quest for creative, personal expression. Students work in a communal and collaborative work environment, where shop safety is a top priority. Serious inquiry into art historical and contemporary contexts for printmaking is emphasized.

Programs of Study:
Undergraduate Studies
The undergraduate print-shops at Kansas State University are interdisciplinary labs for artistic growth and exploration. Students from all areas of the Art Department, and majors throughout the University, work together in a communal environment to apply their unique skillsets into traditional and contemporary forms of graphic arts. Undergraduate Printmaking Alumni have gone on to work as professional printers, museum technology directors, gallery represented artists, tattoo artists, snowboard/skateboard/apparel designers, artist residency directors. Many have gone on to receive full funding to attend graduate school.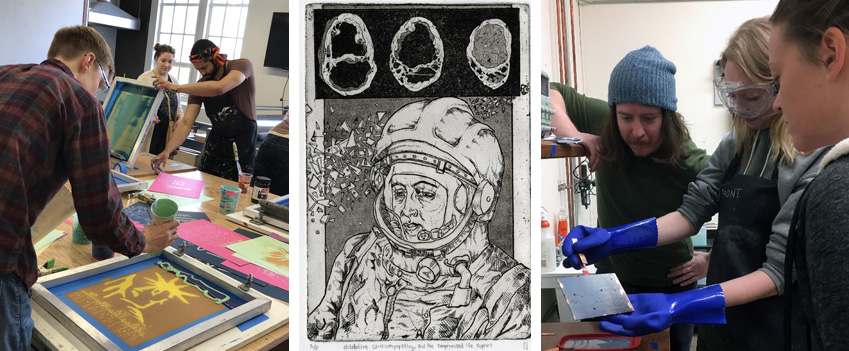 Graduate Studies
KSU historically attracts graduate printmaking students who are mature, independent, and self-motivated, with a passion for discovery through a print process. Students are selected based on educational preparation, artistic promise and potential. Our program emphasizes the importance of individual artists/printmakers and their individual talents and strengths. We intentionally maintain a small graduate program of 1-3 students who work closely with our Printmaking faculty. Graduate students accepted in Printmaking are awarded their own private studio, flat file storage, and 24-hour access to all KSU printmaking facilities. A final, solo thesis exhibition, along with a well-researched paper that supports the exhibited work, is the culmination of the program, providing the opportunity to present a robust and cohesive body of personal work.
Qualified students may be eligible for Graduate Teaching Assistantships (GTA), which provide financial support as well as valuable experience for future employment.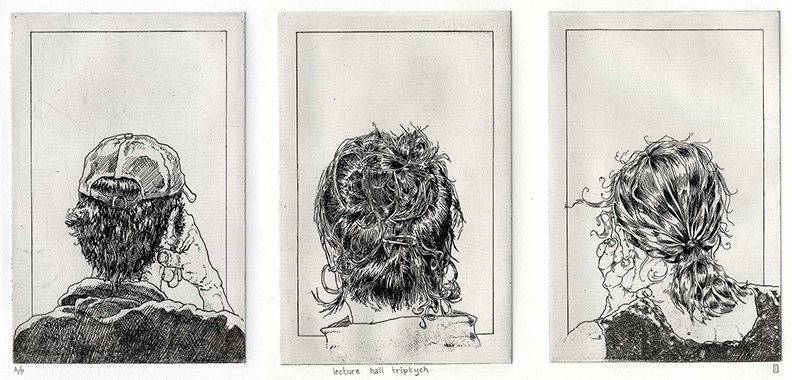 Program Facilities & Equipment
Kansas State University Printshops are fully equipped with a new State of the Art Industrial Ventilation system, including:
3 large scale spray booths for airborne particulates,
25 running feet of stainless steel custom designed slot hood
exhaust ventilation with integrated flammable and acid cabinetry
canopy hood system for traditional plate smoking,
2 flexible extraction arms for lithographic presswork
ventilated silkscreen and photographic process rooms
5 large scale vertical etching tanks, spill containment pallets, and PVC slot ventilation.
22x66" Metal grinding and sanding downdraft table
Printmaking Equipment:
Professional Inking Hotplate 48x48"
Conrad Professional Hotplate 24 x 36"
2'x5'LED Large format exposure system for Screenprinting, Lithography, and Photo Etching.
29 x 42" Large Format Etching Baths
Reciprocating Flex shaft Power Chisels and
Rotary Carvers
2 Large-format drying racks
Extensive color relief and lithography ink inventory
Professional Takach Brayers (various sizes and durometers)
Fine Art Presses:
2008 Takach 48 x 96" Large format intaglio/relief press
American French Tool 36 x 60" intaglio press
Sturges 28 x 48" Intaglio/Relief Press
Takach 34 x 60" Lithography Press
Graphic 30 x 48" Lithography Press
8 Screenprinting stations
Faculty
Professor & Area Coordinator
jscuilla@ksu.edu
Willard 321
Graduate Teaching Assistants
Bryan Raymundo
braymundo316@ksu.edu
310 Willard Hall
Kyra Litwin
kmlitwin@ksu.edu
304 Willard Hall