Metalsmithing & Jewelry
At the intersection of craft, design and art, the Metalsmithing and Jewelry program provides students with a versatile and professional education that fosters the growth of each student as an independent artists and designer. Students learn various skills ranging from traditional metalsmithing and jewelry techniques to contemporary digital fabrication processes as well as design principles and idea development.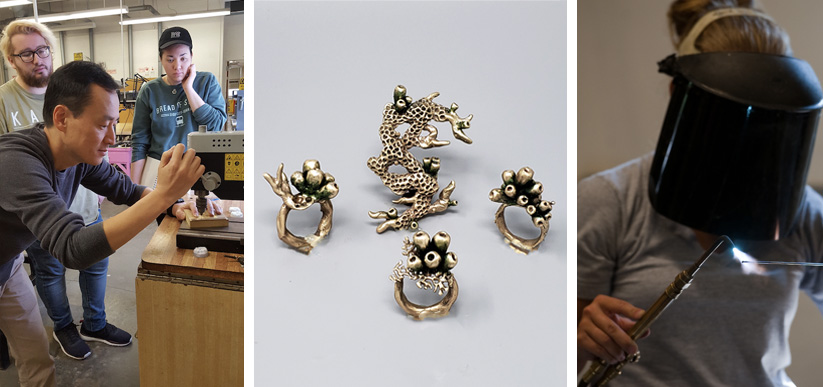 Programs of Study:
Undergraduate Studies
The undergraduate program emphasizes understanding of historical and contemporary metalwork, design skills and creative approaches to metalsmithing and jewelry making, and proficiency in hand skills using traditional materials and techniques. In addition, students should understand concepts and practice of new digital fabrication methods that relate to the area, business skills, and presenting artwork professionally in portfolios and exhibitions.
BFA students are prepared with experience and knowledge of metalworking and jewelry design/making, developing a strong portfolio, and are encouraged to apply for scholarships, competitive exhibition opportunities, and internships. Career choices for graduates ranges from working as an independent artist, designer, or bench jeweler, continuing to graduate school, to becoming an educator or resident artist, among other options.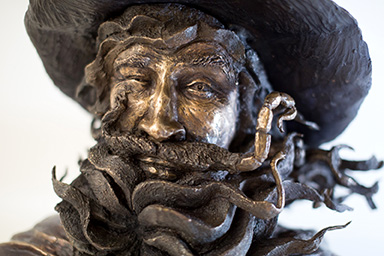 Post-Bachelor Degree Portfolio Development
The Portfolio Development in the Visual Arts course is a non-credit, on-campus course offered during Spring and Fall semesters in the Department of Art at Kansas State University. this class is ideal for students who seek to expand their skills through intensive study and studio art practice. The course offered to participants who hold a bachelor's degree and are interested in further developing their art within an academic studio environment. This guided experience is designed to produce artists who are competitive in the national area for sought-after professional opportunities such as grants, residencies, exhibitions, and post-graduate education, including the MFA in studio arts.
Graduate Studies
Graduate students have studio space separate from the undergraduate students. Graduate students are expected to be a mature, self-motivated individuals with a solid but diverse background in metals. Graduate students in Metalsmithing and Jewelry present a Capstone project in a solo exhibition, along with well-researched paper that supports the exhibited work. Graduate students work with a four or five-person committee comprised of multi-disciplinary art faculty who meet for regular critiques, as well as engaging in self-directed independent studio work. Formal and informal reviews with area faculty are held as the need arises.
Qualified students may be eligible for Graduate Teaching Assistantships (GTA) which provide financial support as well as valuable experience for future employment.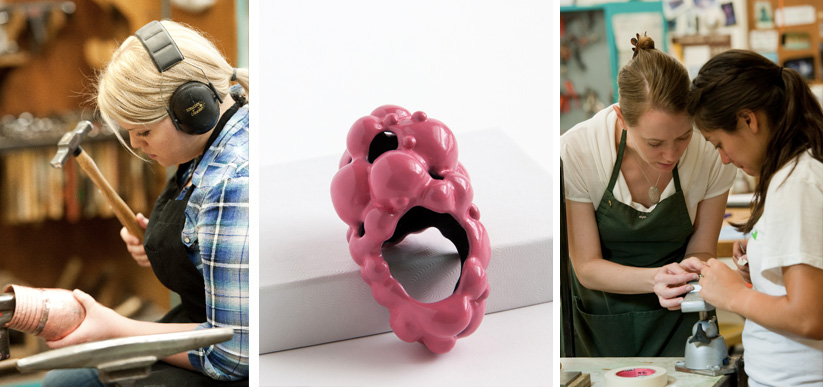 Program Facilities & Equipment
The K-State Metalsmithing studio occupies 2800 sq. ft. and is divided into 4 areas: a main studio, a smithing studio, a large equipment/advanced studio, and a special techniques studio. Each studio well equipped with an array of tools and equipment for jewelry and metal fabrication, as well as large variety of tools for silversmithing, enameling, casting, and digital technologies such as 3D printing for direct casting.
Faculty
Associate Professor & Area Coordinator
dukno@ksu.edu
Willard 302
Instructors
Instructor
hbayless@ksu.edu
Willard 303