Ceramics
The Ceramics program supports a broad range of inquiry from ceramic design, to mixed media sculpture, to emerging practices that challenge classification. This expansive conversation allows for hybrid creative work that can push the expressive boundaries of clay. Students in the Ceramics concentration work through a flexible framework of curriculum that emphasizes self-directed creative development within the context of a communal studio environment.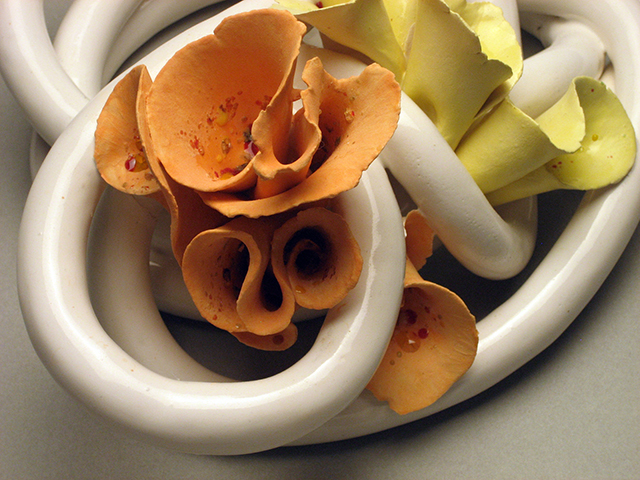 Our well-equipped 7600 sq. ft. studio spaces house new technologies in ceramics as well as traditional and industrial equipment. A strong visiting artist program and internationally active faculty keep our students engaged in a contemporary global conversation about ceramic art and design.
Programs of Study:
Undergraduate Studies
The curriculum in the K-State Ceramic concentration fosters a conceptually challenging and technically rewarding learning environment. Our studio classes help students develop problem-solving abilities in the areas of theory, material, and production by exposing them to a spectrum of possibilities within the ceramics field. Recent graduates have been accepted into nationally competitive MFA programs or gone on to successful creative careers as studio artists and designers.
Portfolio Development in the Visual Arts
Formally a Post Baccalaureate Program
K-State Ceramics offers a Non-Certificate post-baccalaureate program. It is an opportunity for artists who hold a bachelor's degree and are interested in developing their practice while participating in an active academic ceramics studio. Post-baccalaureate studies are often for those transitioning out of, or back into, school but may also act as support for visiting or international artists. Interests in pursuing a large individual project or building a portfolio for graduate school, residencies or grant applications, in which an academic studio environment is needed, will also be considered for the position. Post Baccalaureates at K-state play a key role in the studio ecosphere contributing to its day to day function and work flow. Their frenetic yet reflective studio practices serve as peer-like examples for other students. Post Baccalaureates are required to attend an advanced ceramics course each semester and are expected to maintain a high degree of professionalism and community engagement.
Graduate Studies
K-State offers a three-year course of study towards the Master of Fine Arts Degree with a concentration in Ceramics. MFA candidates are granted a large private or semi-private studio and access to our fully equipped facilities. A final, solo MFA exhibition culminates the program, providing the opportunity to present a strong and cohesive body of personal work.
Qualified students may be eligible for Graduate Teaching Assistantships (GTA) which provide financial support as well as valuable experience for future employment.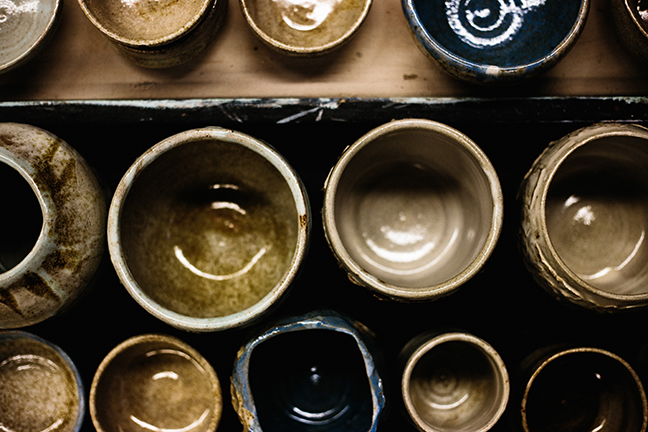 Program Assets
The K-State Art Department provides access to 2D and 3D print labs with large format photo printers and scanners, full-color and sepia tone ceramic decal printers, laser cutter, vinyl cutter and rapid form fabrication that includes multiple FDM (Fused deposition Modeling) and SLA (Stereo Lithography) printers. The print lab also houses a large 4'x 8' foot CNC router and 3D digital scanner. In addition, the art department provides access to a large dedicated photo room for documentation and studio photography with professional equipment. Students interested in construction methods with wood have access to the well-equipped departmental wood shop.
The ceramics department has extensive electric, gas and atmospheric kilns on-site in addition to a satellite 2000 sq. ft. covered, open-air kiln facility. The clay and glaze lab boast over 17 tons of material storage. The brand-new Digital Clay Lab houses cutting edge technology in 3D clay printing from DIY paste printers to the industry-leading purpose-built Sacra 3D clay printing robot. For large sculpture or vessel work, specialty pallets and lift systems are available to move work fluidly from creative space to kiln and back again. The Plaster Lab is over 400 square feet with custom-designed glass-topped tables for mold making and prototyping. Slip casting takes place in a separate Casting Lab with three casting tables and an extensive mold library. The Ikeda Gallery, a 300 sq. ft. white space gallery is available for reservation and can be used for installations, reviews, critiques, or to document work.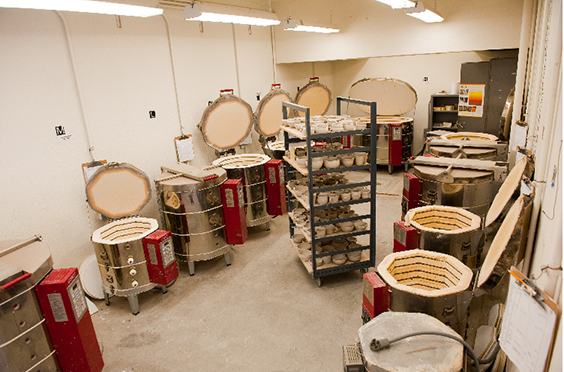 Electric kilns
1 – 18.5 cu.ft. Skutt 16271 – 10 cu. ft. Skutt 12277 – 7 cu. ft. Skutt 10273 – 2.5 cu. ft. Skutt 8182– .8 cu. ft. Skutt 6142 – .6 cu. ft. Skutt 609 1 cu ft. test
Gas and Atmospheric Kilns
40 cu. ft. Down Draft Car16 cu. ft. Down Draft16 cu. ft. Up Draft14 cu. ft. Cross Draft Soda4 cu. ft. Experimental kiln40 cu. ft. Wood Fired Train
Clay and Glaze Lab
250 lb. batch capacity Peter Puger mixerPeter Puger mixer extrusion kit with hollow dies300 lb. batch capacity Soldner mixer150 lb. batch capacity Soldner mixerSand blasting cabinetIndustrial Glaze BlungerLaguna Spray boothFixed and Mobile Compressor
Material Processing
Jaw CrusherPlate MillBall MillWiley Mill
Plaster and Casting Labs
2 Imported Vertical Plaster LathesA de-airing plaster vacuum chamberShimpo jigger arm72 cu. ft. Bailey Heated Drying Cabinet2-33 gal. Slip Tanks with Blungers20 gal. Slip Tank with Blunger20 gal. Slip pump100's of commercial and industrial molds
General Studio Equipment
18 Shimpo VL Electric Wheels2 Extruders with hollow extrusion kitsBrent SR-20 Slab RollerFoam Cutter10" Wet Tile Saw with 36" cut capacity
Digital Clay Lab
3D Potter XLS Sacra Robot3D Potter 7 ProHand Extruder Tube Loader for 2000ml & 3600mlTube Loader for PugmillDelta 3D Clay Paste PrinterFull Color Decal PrinterCerPrint 3500 True Black Decal PrinterMIRC Sepia tone decal printerRoland GS-24 CAMM 1 Vinyl CutterDLSR Camera and Tri-pod2 Projectors
Faculty
Professor & Ceramics Critic
gbrown@ksu.edu
Willard 307
Assistant Professor & Area Coordinator
ngeankoplis@ksu.edu
Willard 030/029
Graduate Teaching Assistant
Makenzie Burmeister
mburmei@ksu.edu
Willard 031