MFA students in sculpture come from all over the US and occasionally from other countries. Students in sculpture have most traditional sculpture making equipment available for their use and are encouraged to experiment with the non-traditional sculpture applications. Students are encouraged to exhibit their work in a variety of venues and to attend conferences and workshops off campus.
Program Alumni: John Hachmeister, The University of Kansas; Pearl Hansen, Wayne State College; Ken Wagner, North East Nebraska Community College.
Facilities
1,800 sq. ft. Foundry/Fabrication Area with:
MIG, TIG, Arc, Plasma Cutter, and Oxy/Acetylene
400 lb. Muller, 200 lb. Mullbaro Muller
Bridge Crane and "A" Frame gantry
Forklift and Pallet Jacks
80 cu. ft. Car Kiln, 24 cu. ft. Alpine Kiln, 8 cu. ft. Cress Kiln
120 gal. Compressor, Sandblasting Cabinet, and Pressure Pot
Bench Grinder, Polisher, and Disc Sander
Metal band saw and Drill Press
400 sq. ft. Woodshop with:
Disc Sander. Drill Press, Jointer, Table, Radial Arm, Miter and Band Saws
Designated Plaster, Wax working, Plastics/Resins and Wet processes rooms
Additional:
200 sq. ft. Graduate Studio Spaces
2,000 sq. ft. Courtyard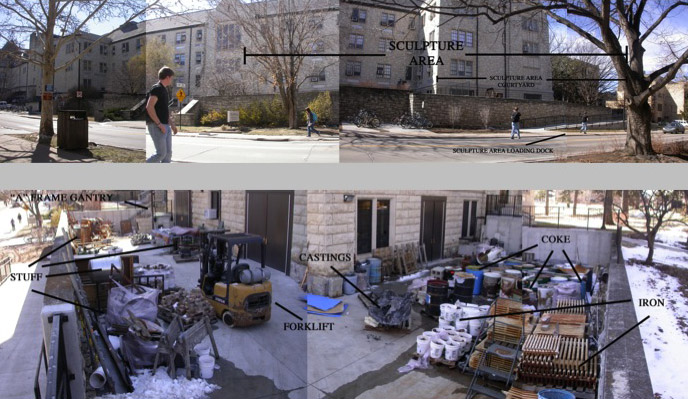 *We are not accepting Graduate Applications Submissions for Sculpture for Fall 2017!