Visiting Artist Events
March 17, 2021
Artist Talk presenting Christine Olejniczak, 9:30am via ZOOM
Marking Time - The sound of drawing is my kind of music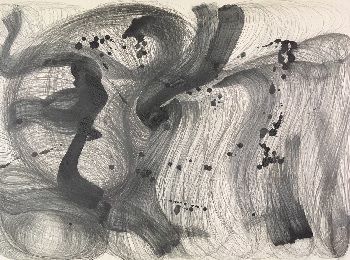 Wind Map, graphite on paper, 42x29.5", 2019
Drawing is my first language. It's true. It's direct. It's real. I have been performing the sound of drawing on instruments of my own making since 1994. A search for patterns in nature begins with a site-specific investigation. My drawing process involves direct visual observation, scientific data, meteorological video and field recordings. I work through several different mediums that all serve as an extension of the drawing process. The goal is to distill the work into a format that can be experienced as a shared collective experience.
The past couple of years I have been studying wind maps of the United States, particularly the central prairie region, with an interest in using these studies to develop performance scores.
I find the Lawrence/Kansas City area of particular interest because of the convergence of southern winds and northern cold fronts. This area of the United States is often on the edge of two weather systems, a line that segments the north from the south. This line offers an opportunity to observe climate change, the formation of storm fronts and the dissipation of weather systems as eco poetry.
Website: http://www.christineolejniczak.com/
Zoom: https://ksu.zoom.us/j/97309313779
Admission is free and open to the University. Funded by K-State SGA Fine Arts Fee.
October 19, 2020
Artist Talk presenting Emily Sheehan, 11:45am-12:45pm via ZOOM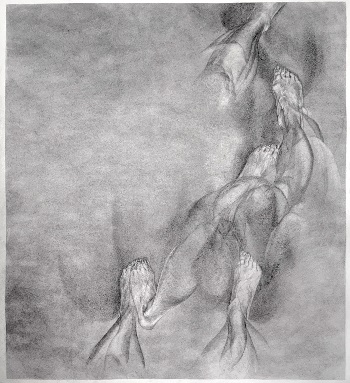 Moving Forward
, Graphite on Paper, 50"x55", 2014
Emily Sheehan received her M.F.A in Visual Studies, with a specialization in Drawing and Sculpture from the Minneapolis College of Art and Design (MCAD) in 2008. Emily holds the position of Associate Professor of Fine Art and Drawing Area Head at Indiana University Southeast. Emily's artistic practice/research utilizes perceptual drawing (drawing from observation in a multi-sensory way) to explore the way marks left on a page become evidence of lived experience. Emily uses both traditional and non-traditional drawing materials, and techniques, to create works that provoke both herself and the viewer to linger in the human space between encounter and recounting where we make our world personal. Emily's work has been exhibited nationally, in group, invitational, and juried exhibitions. Emily is on the board of the Thinking Through Drawing – International Drawing and Cognition research network, which coordinates symposia and events and publications that connect people who are interested in the process and practice of drawing and the ways that drawing both reflects and facilitates thought and perception.
Register HERE (https://ksu.zoom.us/meeting/register/tJIkd--gqjIoEtYhPENrBy3fd35CtPJo7sLz) (ZOOM registration & meeting Link) and join us on October 19th. Admission is free and open to the University. Funded by K-State SGA Fine Arts Fee.
October12-31, 2020
"Cut" exhibition installation by Ceramic Artist, Kyle Johns
The Kansas State University Art Department presents Kyle Johns installation "Cut" starting Monday, October 12 in the Mark A. Chapman Gallery, Willard 116.
Admission is free and open to the public. Social Distancing and Face Mask protocols should be adhere to whFunded by K-State SGA Fine Arts Fee.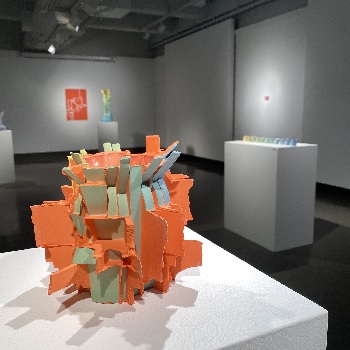 Burst, (2020), colored clay & slipcast https://www.kylejohnsceramics.com/
Using the traditionally rigid process of mold making that is at the core of industrial production; I deconstruct and reassemble plaster mold positives to create a multitude of unique forms. The work is created organically, responding to the outcomes and limitations of the process and material. Through play, variation and modification, I look to change simple variables to create new methods and possibilities. I often reference domestic forms that are familiar, as a means to draw a broader connection to my work. These objects exist in the grey area between vessel and sculpture, and question the boundaries of design. Through my work I hope to explore the various degrees of function, from the practical to the sculptural, while generating new ideas for uses, forms, and processes.
View archives of Visiting Artists:
2019-2020 Visiting Artist Series
2018-2019 Visiting Artist Series
2017-2018 Visiting Artist Series
2016-2017 Visiting Artist Series
2015-2016 Visiting Artist Series