Drawing
Drawing is one of the oldest forms of art, from cave drawings, to the Renaissance, to the many modes of abstraction seen today. The study of drawing strengthens our ability to see and understand the world around us and develops our ability to critically analyze the visual relationships that bring meaning into the world. In that way, drawing is both fundamental to all art and design study, as well as being an expressive activity in its own right.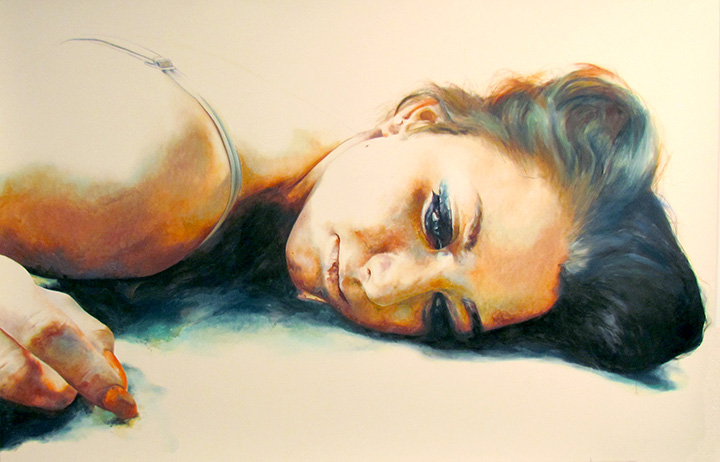 Programs of Study:
Undergraduate Studies
The Drawing concentration begins with Drawing I in our foundations program where students engage in exercises and workshops by drawing from observation in order to build perceptual acuity and hands-on skills in various media. Students learn to see and develop their ability to visualize their ideas through as they progress through the concentration curricula. Advanced courses are structured to support rigorous study in composition and conceptual expression, and to foster the development of each student's individual creative voice. Small class sizes allow for close faculty mentorship that is critical for each student's conceptual development and visual maturity. Space permitting, private studios are available for seniors in drawing during their last semesters in the program.
Graduate Studies
Students committed to artistic expression through drawing are encouraged to consider graduate study at Kansas State University. The MFA with a concentration in Drawing allows students to explore a wide range of approaches in terms of style, media, and concept. The K-State MFA program brings noted artists, art historians and art critics to campus each year, to broaden our student's exposure to contemporary practice. MFA candidates are granted a large private or semi-private studio and access to our fully equipped facilities a final, solo MFA exhibition culminates the program, providing the opportunity to present a strong and cohesive body of personal work.
Qualified students may be eligible for a Graduate Teaching Assistantship (GTA), which provide financial support as well as valuable experience for future employment.
Program Facilities & Equipment
Large studio classrooms occupy nearly 4,000 sq. ft. of newly ventilated spaces in Willard Hall, which accommodate several different classes exploring a wide range of media.
Faculty
Associate Professor
kevinber@ksu.edu
Willard 119
Associate Professor
nmorrow@ksu.edu
Willard 311
Associate Professor & Area Coordinator
ewiersma@ksu.edu
Willard 224
Instructors
Instructor
kpnowlin@ksu.edu
Willard 007
Instructor, Academic Advisor
jenniferhudson@ksu.edu
Willard 110