Ceramics
The K-State ceramics program fosters an interdisciplinary and challenging learning environment. Our undergraduate program is designed to prepare BFA candidates for a career in the arts.
In any given semester, there are 2 to 6 graduate students, 3-6 post baccalaureate students, 10 to 15 undergraduate students concentrating in Ceramics, and a Visiting Artist in Residence. The ceramics area occupies over 7,000+sq. ft. Individual studio spaces and common work spaces generate a dynamic, creative learning environment.
Past undergraduate students have focused on functional ware, design, sculpture, and installation. Some recent Ceramics majors have gone on to successfully pursue careers in the Fine Arts, pottery production, art therapy, and design. Many undergrads have been accepted into nationally competitive MFA programs.
Student Club - KSU Potter's Guild
Ceramics Graduation Requirements: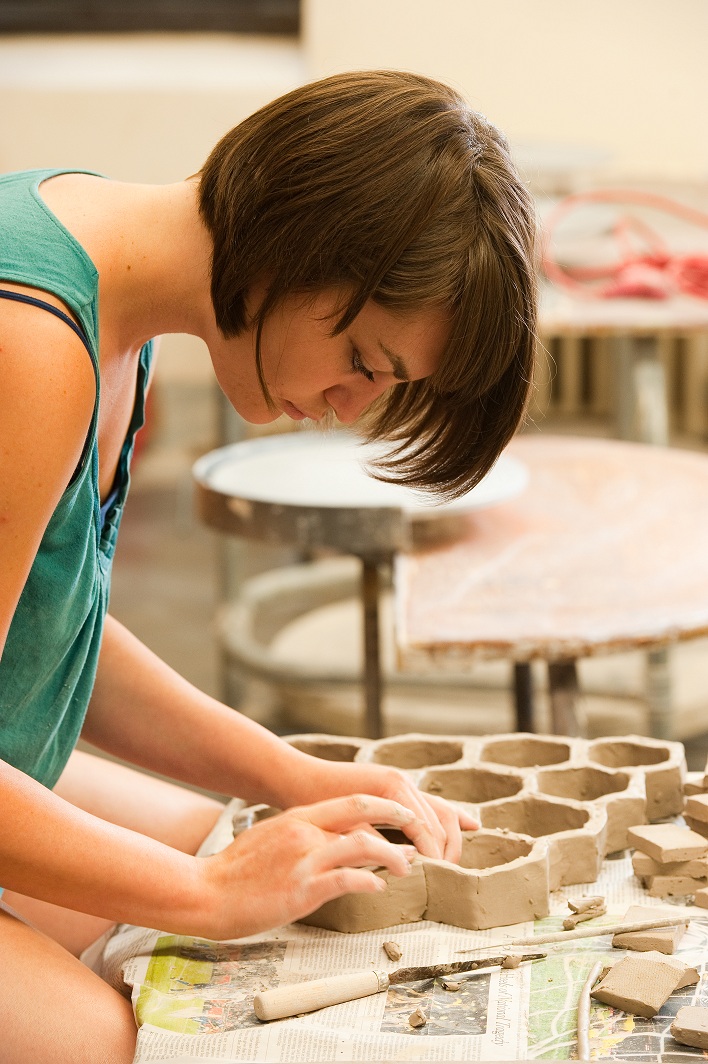 Facilities: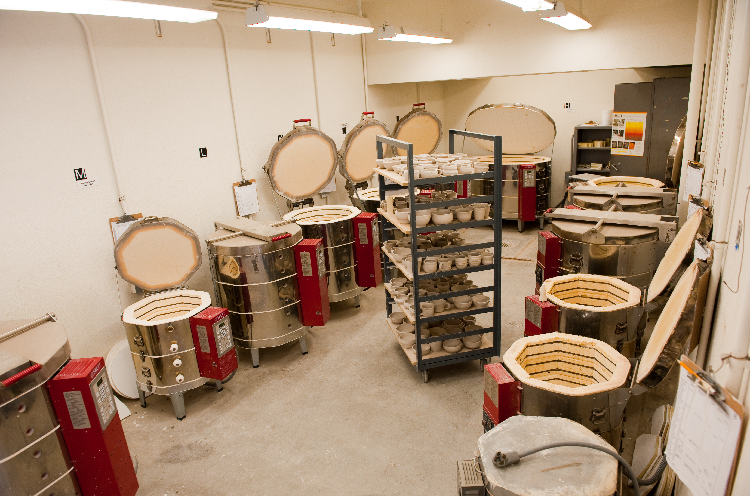 Electric Kilns
1 – Skutt 1627-18.5 cu ft
2 – Skutt 1227-10 cu ft
7 – Skutt 1027-7 cu ft
3 – 2.6 cu ft
2 – 1 cu ft test
Gas Kilns
Down Draft – 16 cu ft
Down Draft Car – 40 cu ft
Up Draft – 16 cu ft
Cross Draft Soda Kiln – 14 cu ft
Gas Test Kiln – 4 cu ft
2 oxygen sensors
2000 sq. ft. Wood and Raku kiln facility.
40 cubic foot wood fired train kiln designed by Ted Neal, Associate Professor at Ball State
Wheel Throwing Studio
16 Electric Wheels
4 Kick Wheels
Hand Building Studio
2 Extruders
Brent SR-20 Slab Roller
Slip Casting/Mold Making room
Slip'O'Matic – 20gal
2 casting tables
Plaster area
Commercial molds
Ikeda Gallery
300sq ft clean space to hold reviews, critiques, or photograph work.
Misc
Digital Decal Printer - Full color 8.5" x11"

53″ Vinyl Plotter

MakerBot Replicator

MakerBot Digitizer

4′x8′ CNC Router

Laser Cutter

Glaze Calculation Lab

Thermofax – for creating silk screens

Photography Studio

Clay Mixing Room

Spray Booth

Pug Mill

Ball Mill

Sand Blasting Booth

Air Compressor