News & Announcements
April 2018
Faculty Show @ Beach Museum makes Local paper
The Manhattan Mercury's exclusive on the KSU Department of Art Faculty Show at the Beach Museum on campus.
OPEN HOUSE 2018_Department of ART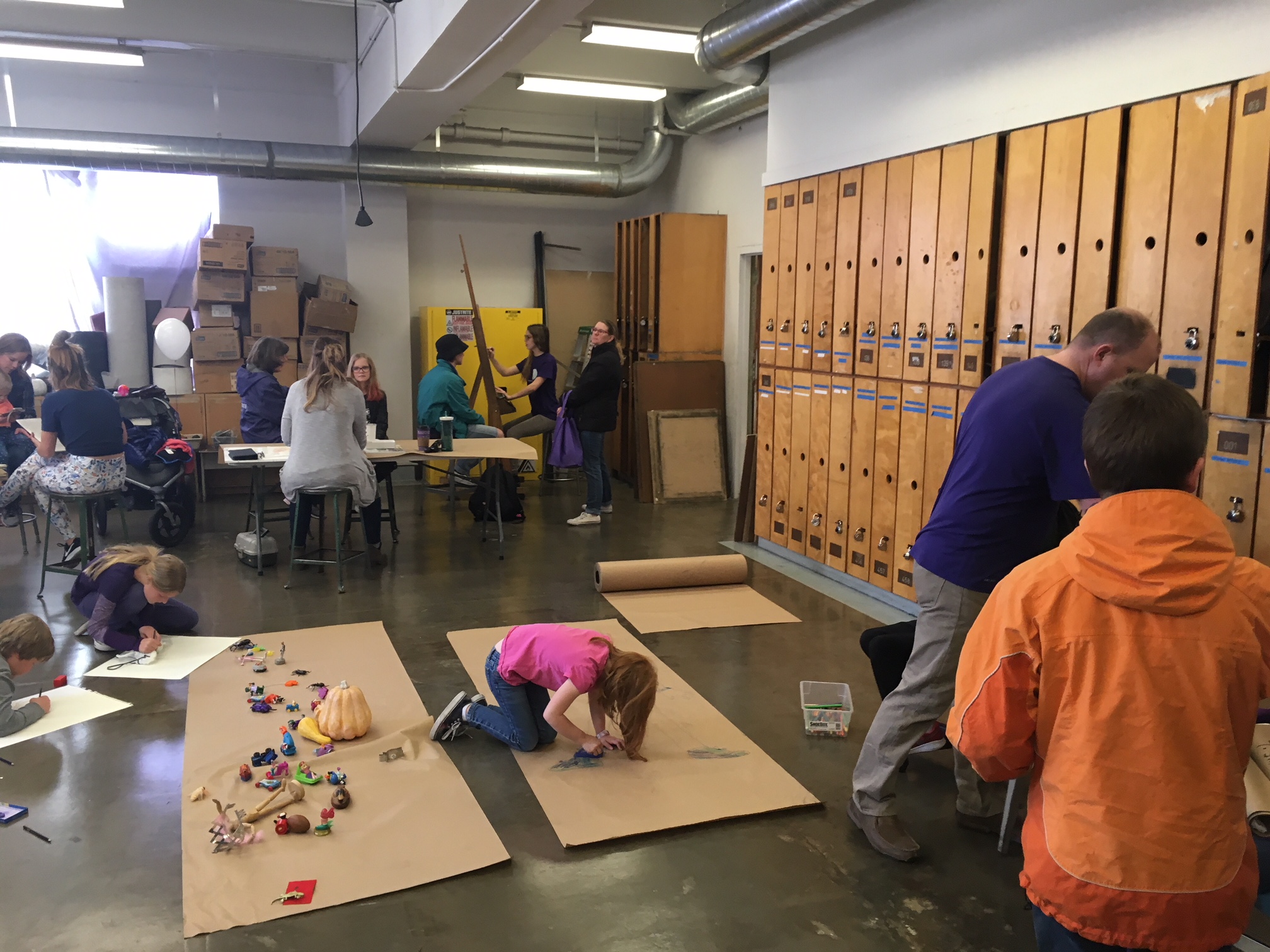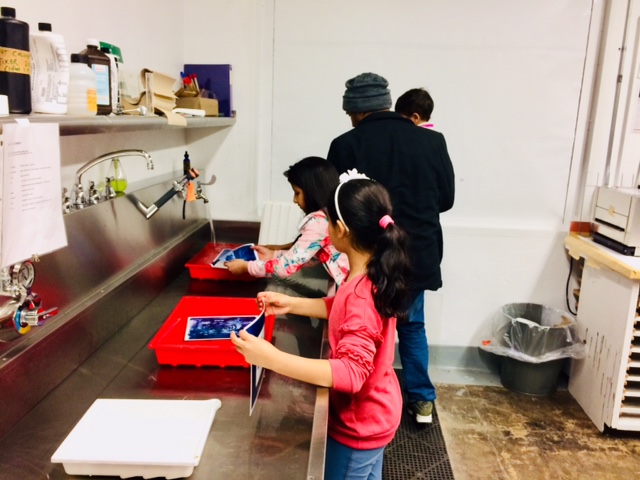 Willard Hall was a flourish of activity and creativity on Saturday, April 6th during Open House. Both the Drawing area and KSU Photo Klub had interactive activities and demos going on on the second floor of Willard and the Prairie Fire Printmakers club and Graphic Designer AIGA organization represented activities on the third floor.
Tables were set up at the Student Union by our Art Advisor, Wendy Queal, and the Art Student Ambassadors ready to meet and greet interested folks wanting to learn more about our programs and department.
Additional Photos...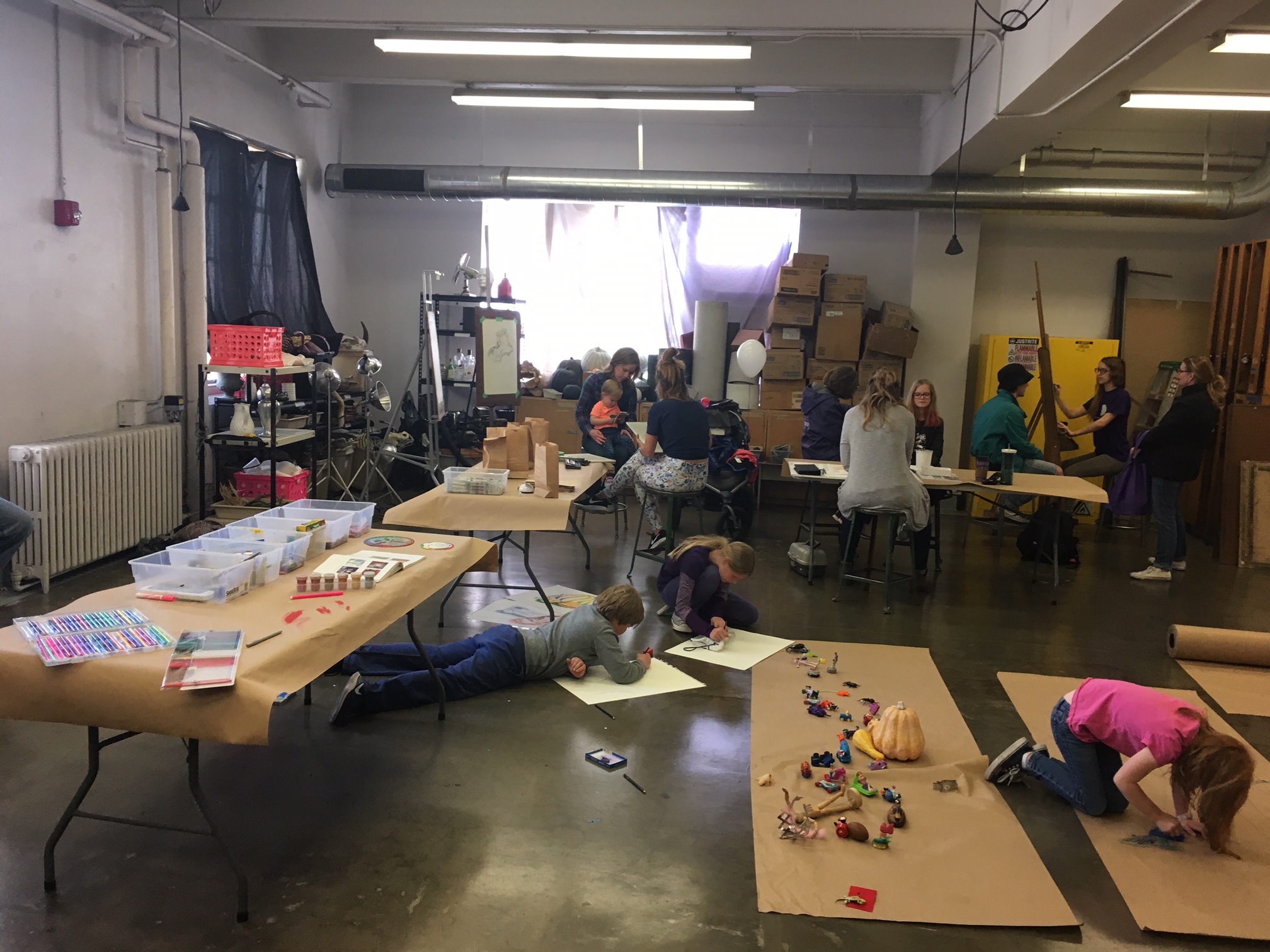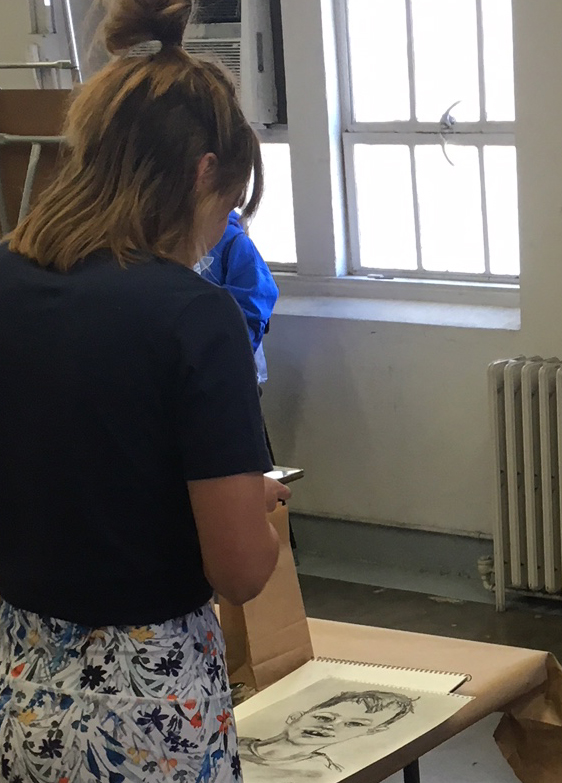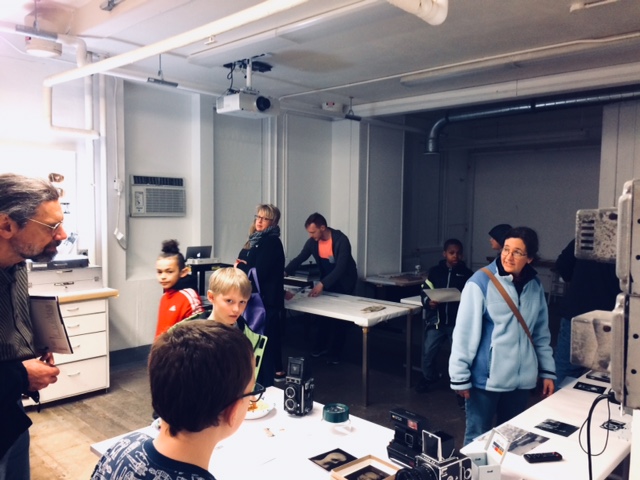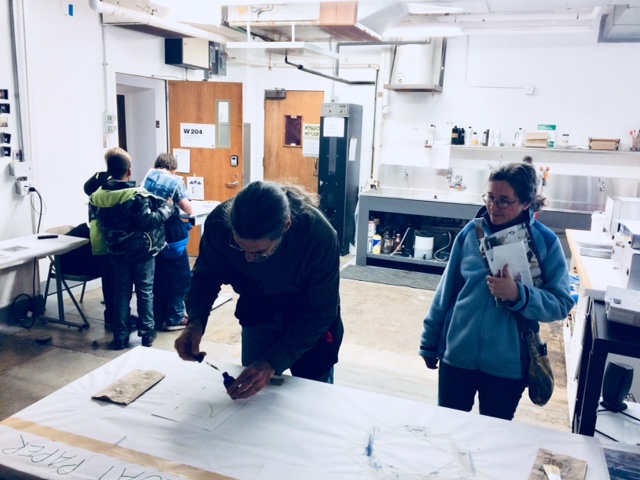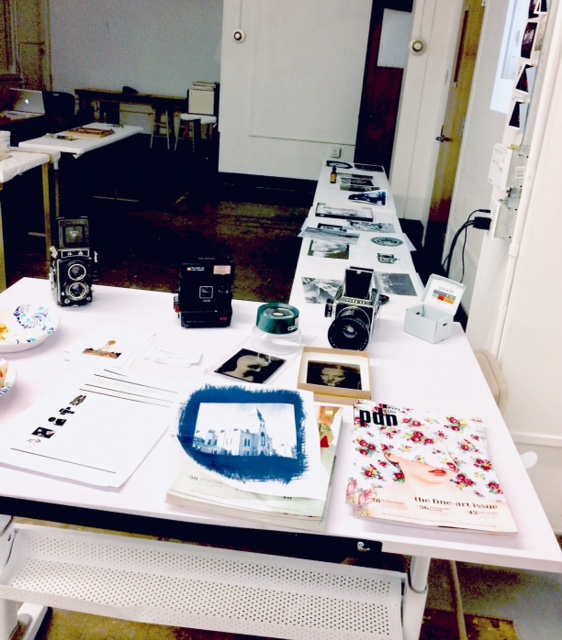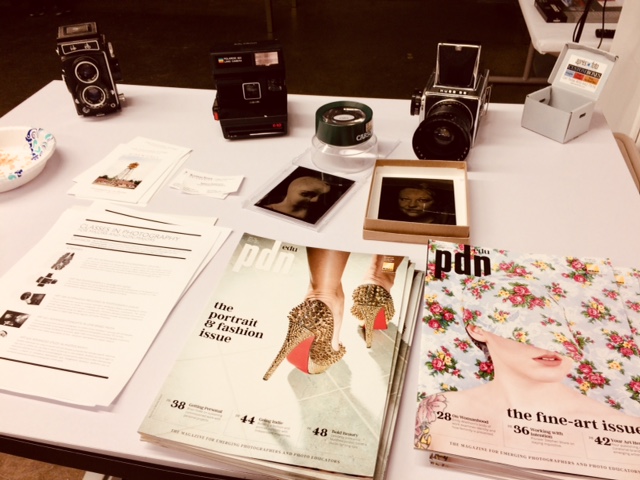 The Department of Art Scholarship Reception and Award Presentation is quickly approaching. Please join us on April 6, 2018 for hors d'oeuvres, art, and conversation from 4:00-4:45pm outside of the Chapman Gallery located on the first floor of Willard Hall. Our Scholarship Award Presentation will start at 5:00pm in Willard 114.
The Department of Art is pleased to announce 2017-2018 Art Scholarship winners. Congratulations to the following students:
Department of Art Merit Scholarship
Lindsay Ebach – Goddard, KS
Clare Fallon – Auburn, KS
Stephanie Kluitenberg – Manhattan, KS
Nahshon Thomas – Manhattan, KS
Madison Zorn – Wichita, KS
Weary Family Art Scholarship
Melissa Donlon – Manhattan, KS
Kelsey Hoines – Atchinson, KS
Adrienne Maxwell – Paola, KS
Natalie Phrakonekham – Winfield, KS
Antonio Pipkin – Manhattan, KS
Shelbie Stuckey – Wichita, KS
Alexandria Walters – Abilene, KS
Mark A. Chapman & Cheryl Mellenthin Fine Arts Scholarship
Bello Bello – Manhattan, KS
Jessica Burnes – Westwood, KS
Mary Carnes – Overland Park, KS
Victoria Harvey – Manhattan, KS
Rachel Hermes – Wichita, KS
Fiona Liem – Surabaya, Indonesia
Logan Robertson – Shawnee, KS
Shannon Saville – Wichita, KS
Jason Harper Memorial Scholarship
Annie Sauer – Wichita, KS
Pat & Jim Hagan Art Scholarship
Emma Allegri – Leawood, KS
Adrienne Maxwell – Paola, KS
Oscar V. Larmer Art Scholarship
Emma Allegri – Leawood, KS
Florence H. Walker Art Scholarship
Elizabeth Hayes – Pittsburg, KS
John W. O'Shea Art Scholarship
Elizabeth Hayes – Pittsburg, KS
Eugenia Fairman McNall Award
Andrea Klepper – Ellinwood, KS
Charles William Hugo Scholarship
Acacia Thalmann – Palmer, KS
Yoshiro and Ester Ikeda Art Scholarship
Jessica Levey - Oakland, CA
Charlotte Scott Award
Therese Schmaltz – Manhattan, KS
Mary Lucille Dunn Art Scholarship
Selena Badami – Overland Park, KS
Hazel Ingram – Lawrence, KS
Neely Joyce – Manhattan, KS
Zelie Thompson – Cypress, TX
The student's works will be displayed in the Chapman Gallery in Willard Hall from April 2-7, 10am-5:00pm. Admission is free to the public.
March 2018
Rebecca Hackemann-Bahlmann, Assistant Professor in Art, was on a panel for immigration for International Women's Day together with Manhattan's Mayor Usha Reddi.
She chaired the fellowships for AAUW Manhattan Branch, who put this event on in the evening of Thursday, March 8th, and was a guest as a 1st generation female immigrant. The AAUW give away $4 million in fellowships to female grad students nationwide. Professor Bahlmann has been working with the Provost and Deans to get the word out to female grad students.
The following link is the article recently published by K-state today: https://www.k-state.edu/today/announcement.php?id=40057
February 2018
Living Democracy in Print at Kemper Gallery in the Union
Print Reception at Kemper Gallery is Friday, February 16th, from Noon-2pm.
The K-State Prairie Fire Printmakers* and a team of 44 K-state art students collaborated on a series of over 400 screen-print posters addressing issues of democracy, freedom, diversity and unity. The artists behind this project aim to inspire inclusivity, respect and improvement among the K-State family and Manhattan community.
This exhibit is contributing to the conversation of Living Democracy, a program that helps students explore civil discourse, social justice and democracy. The prints will be on display at the William T. Kemper Art Gallery, in the K-State Student Union, beginning at 11 a.m. Tuesday, Feb. 13. The space will promote discussion around the issues and remain as a backdrop for future events.
A reception is scheduled for this Friday 12 - 2 p.m. Friday, Feb. 16, at the William T. Kemper Art Gallery. Join the discussion and meet the artists behind this project.
* This exhibition will also introduce the K-State Printmaking club's new name, logo, and mission statement (formerly Pussycat Press)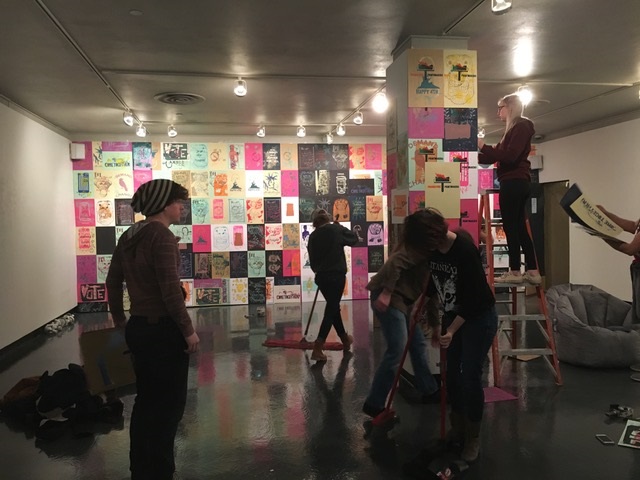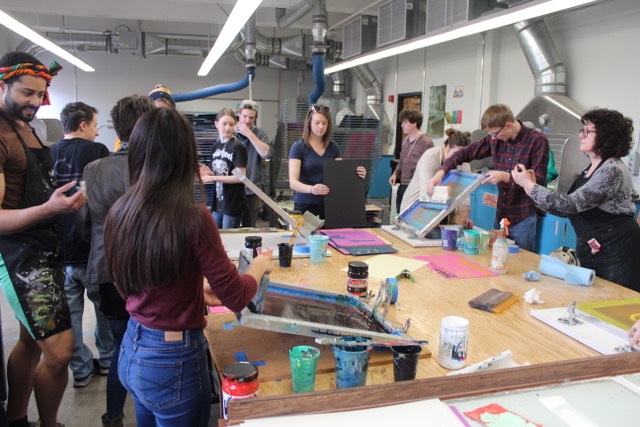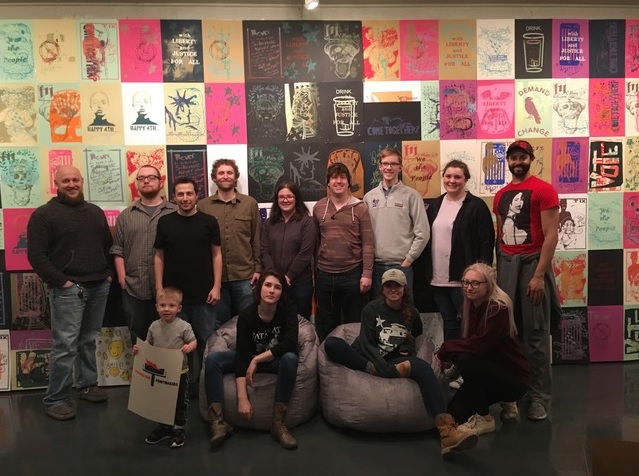 After the Burn: Artist Talk by Erin Wiersma
Artist Talk at The Beach Museum on Feb. 8th @ 5:30-7PM.
Erin Wiersma is an artist who has consistently explored—and pushed—the boundaries of drawing as a fully realized artistic expression. Wiersma's new and ongoing works draw from the Konza Prairie, becoming both the medium and subject matter. This talk is a Prairie Studies Initiative program.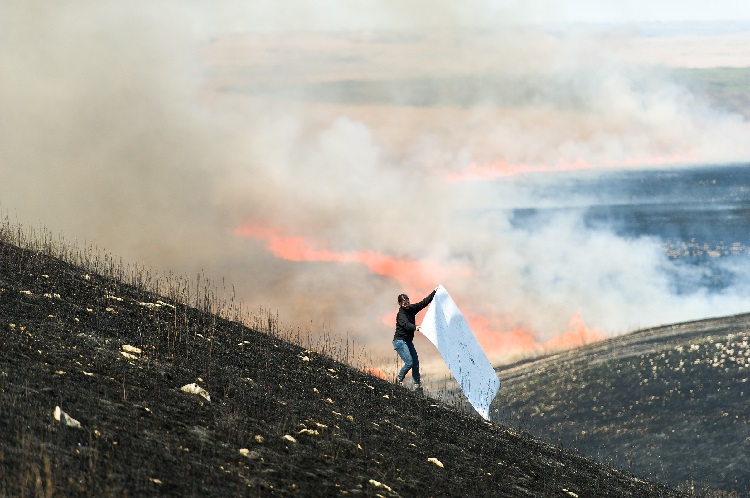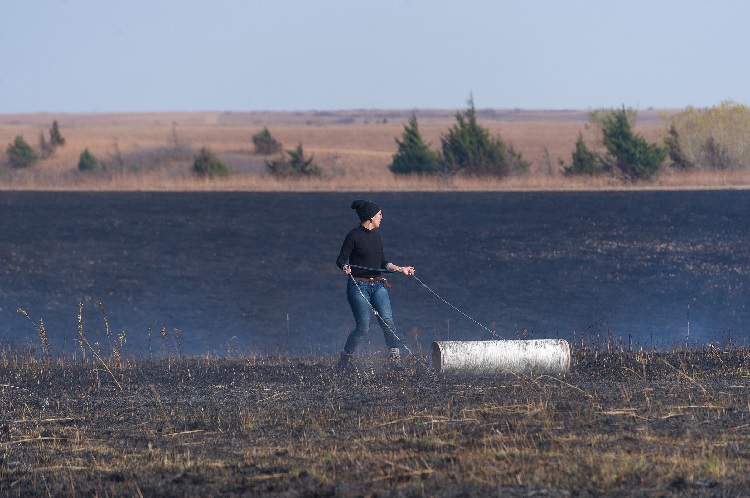 Professor Craig among artists awarded medical school art commission
Geraldine Craig, professor of art and associate dean in the Graduate School, has been awarded a commission with Nelson Smith to create a new work of art for the University of Kansas Medical Center, Salina campus.
The 28-feet-long mixed media wall work titled "Pulse" has rootedness as an important central concept. They plan to incorporate old sewing patterns from the community into the work, layered to build up a surface that suggests the architecture of the body. It also refers to soil and life underground, conceived as embedding collective roots and community spirit in the work. The panels of layered patterns will be interspersed with painted panels and poetry text panels burned into silk organza. Their proposal was selected from a national competition in fall 2017. Read More....