News & Announcements
November 2017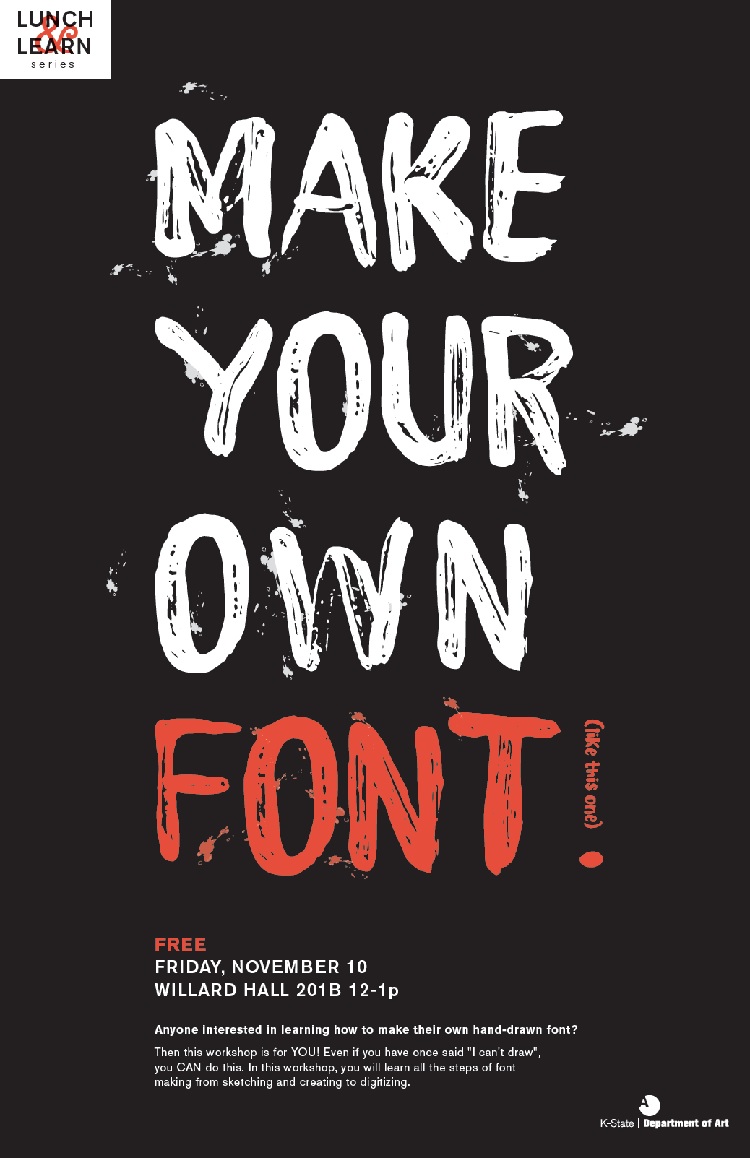 October 2017

Join us for
Dark Progressivism, film screening,
Thursday, October 26, 2017, 5:30 p.m.
101 Thompson Hall, Kansas State University
Director/producer Rodrigo Ribera d'Ebre will present his documentary Dark Progressivism, which tells the story of how Los Angeles art forms--graffiti, street art, tattoo art--evolved from the streets and the social conditions of the city. The film addresses the influence of street gangs on these arts and introduces some of the artists who work in this medium. Rodrigo Ribera d'Ebre also wrote Urban Politics: The Political Culture of Sur 13 Gangs and will offer copies of his book for purchase after the screening.
See a trailer at https://www.youtube.com/watch?v=LquCENMLINE
This program is in conjunction with the exhibition "Ubiquitous: Enrico Isamu Oyama" on view August 15-December 23, 2017.
View all upcoming events
Marianna Kistler Beach Museum of Art
701 Beach Lane (14th and Anderson), Manhattan, KS 66506
785-532-7718 | beach.k-state.edu
Tues., Wed., Fri. 10-5; Thurs. 10-8; Sat. 11-4
K-State Alumni Association Unveils Stained Glass Mural Paying Tribute to Icons of KSU
Drawing Professor is apart of an exhibition in Denver, Colorado starting October 5th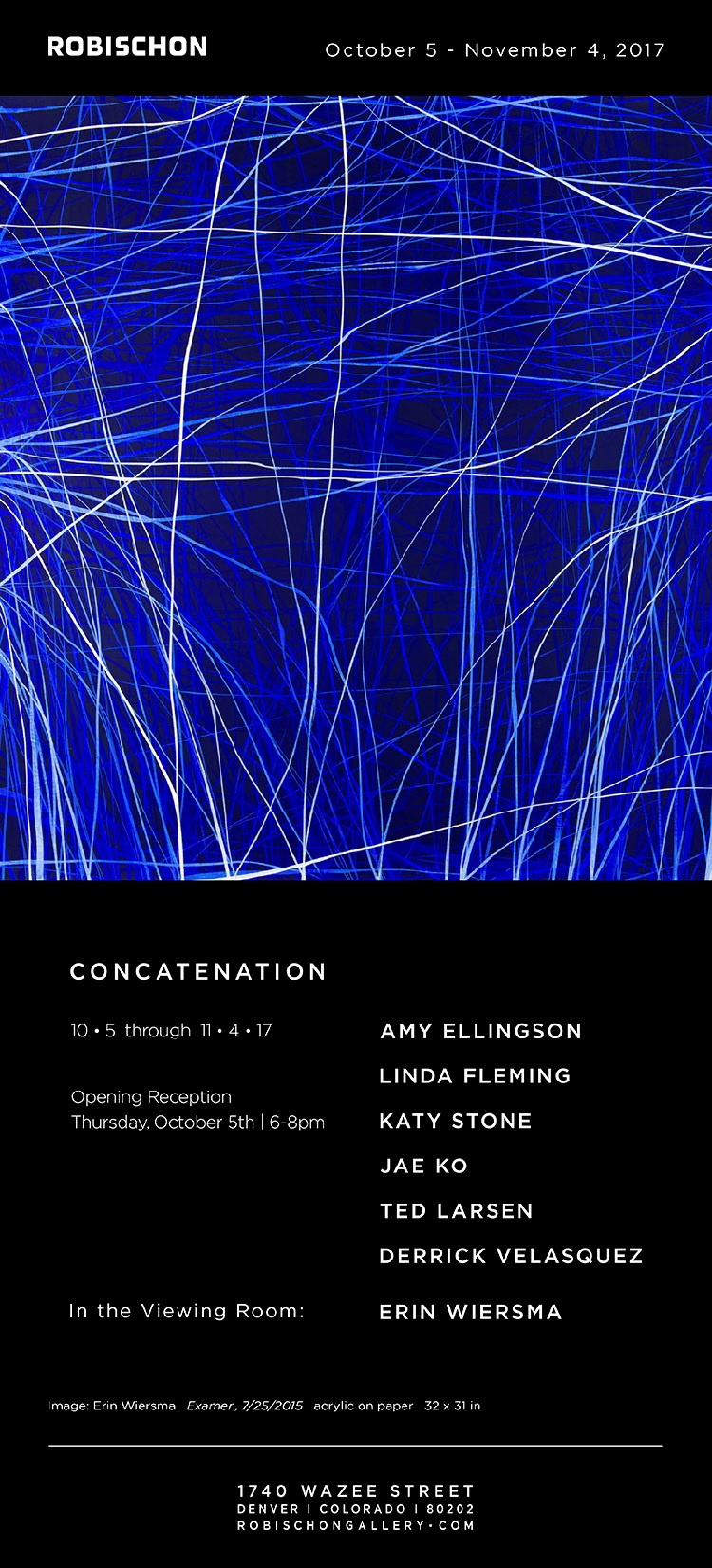 September 2017
Visiting Gallery Artist, Katharina Bosse, guest lectures over her exhibited work in the Chapman Gallery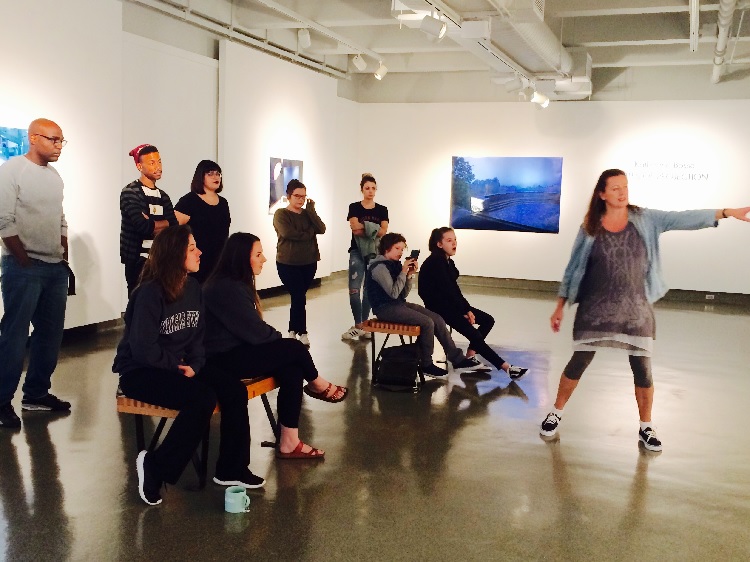 Katharina Bosse, a renowned photographer and artist, gave an artist talk during one our Willard's Hall many photography courses yesterday, Sept. 26, 2017 in the Chapman Gallery in Willard Hall.
Her exhibition continues until the end of the week.
DX Media Student Featured in Local Paper
DX Media student B Bello was featured recently in Manhattan's local newspaper The Mercury. He discusses his interests in art, music, technology and his cat Tigre.
http://themercury.com/features/arts_and_leisure/k-state-student-explores-art-music-technology/article_fdfbc2a2-a5d8-51f2-9955-673370812f94.html
Solo Exhibition of Work by Associate Professor Nancy Morrow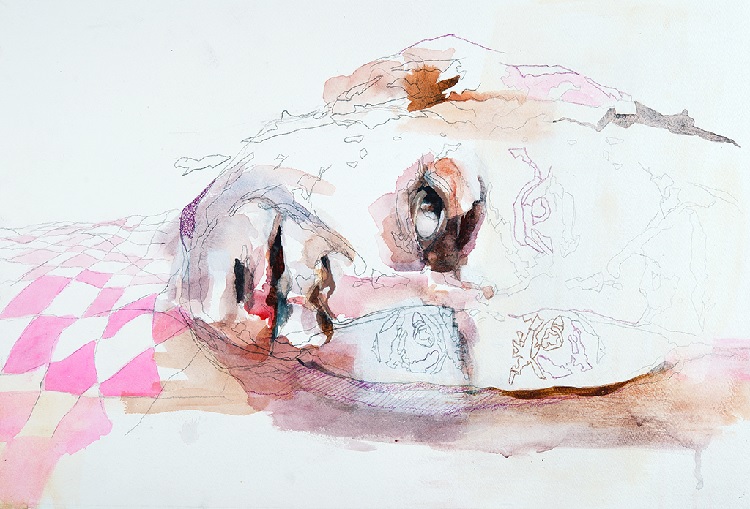 Solo Exhibition of work by Painting and Drawing Professor, Nancy Morrow, "In Care of ..." at Gorecki Gallery, St. Benedicta Arts Center, College of St. Benedict/St. John's University. The exhibition runs August 8-October 20, with artist's talk at 6:00 pm, October 19 in the gallery.
Board of Regents Exhibits Printmaking Professors Work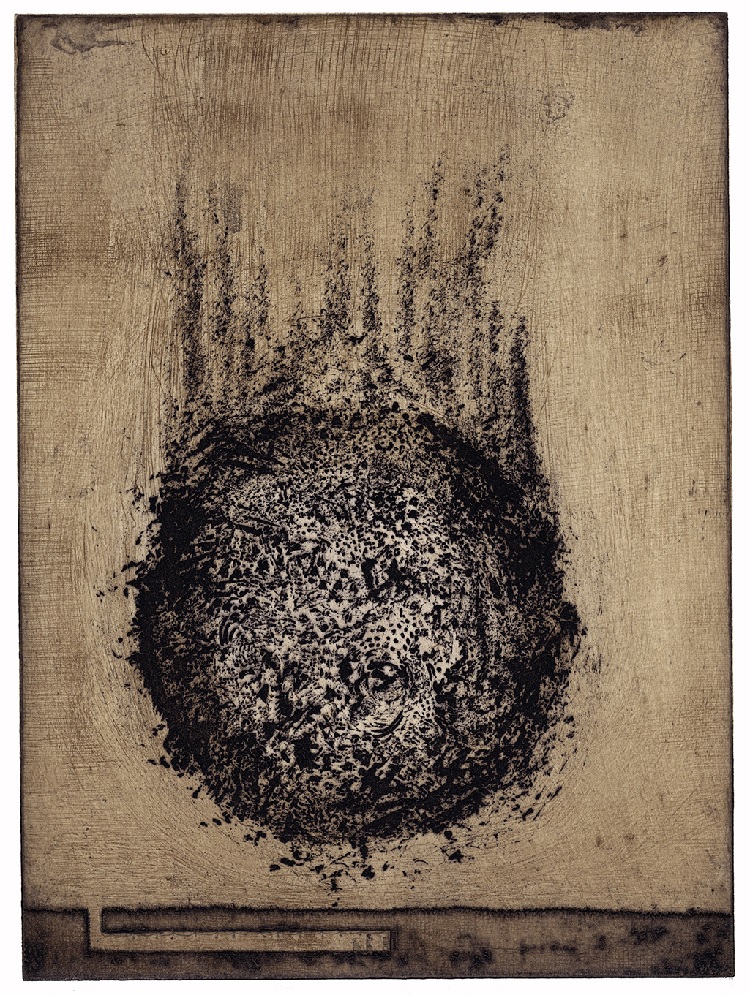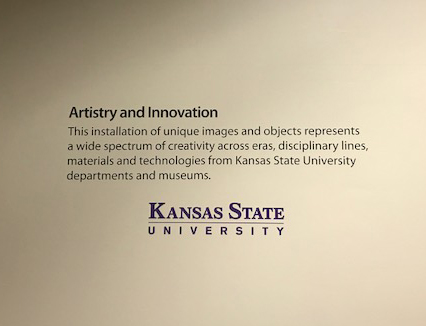 Every year the Kansas Board of Regents invites one of the state universities to provide a display of art and creative work. This 2017-18 year will feature work from Kansas State University. The display "Artistry and Innovation" features both individual and collaborative projects and provides a small sampling of Wildcat research and discovery. Among other University faculty featured, Professor of Printmaking Jason Scuilla's contributed examples of printmaking created through a non-toxic electrolytic etching process developed in a collaboration chemistry professor Stefan Bossmann.
https://www.k-state.edu/today/announcement.php?id=36596
August 2017
Upcoming opportunity for Assistant Professor Rebecca Bahlmann at The Society for Photo graphic Education's West Conference
Assistant Professor Rebecca Bahlmann (aka Rebecca Hackemann) will be a speaker and round table conversation co chair at The Society for Photogrpahic Education's West Conference, TahoeLab, together with California new media artist Matt Garcia and California photographer Daniel Mirer.
Title:
Between Art and the Practicalities of Media Education
Date:
Friday November 4th and Saturday November 5th.
Abstract: Theodor Adorno, writes, "The value of an artwork is not measured by how well it communicates, but on the contrary by how much it resists pre-given standards of judgment". What is the place of media/photographic art in the world today? Do we meet the aspirations and economic realities of our students?
https://www.spenational.org/conferences/tahoe-colab/schedule/2017/11/04/between-art-and-the-practicalities-of-media-educationhour-1
Assistant Professor Rebecca Bahlmann recently had work represented in several exhibitions
Rebecca Hackemann's art work (wet collodion tintypes, stereo photographs) were included in the following exhibitions.
- Foley Gallery, Digital versus Analog, New York, NY (August)
http://www.foleygallery.com/exhibitions/focus/analog_v._digital_/images/24
- The Center for Fine Art Photography, Black and White, curated by Ann Jastaab, Fort Collins, CO (July / August)
- Center for Photographic Art, group exhbition, Carmel CA (June / August)
Associate Professor Erin Wiersma upcoming show in Denver, Co
Associate Professor Erin Wiersma will be showing work in the Viewing Room Gallery at the Robichon Gallery in Denver, Co. The Work shown is a series of complex, monochromatic abstractions utilizing densely layered acrylic and graphite on paper.
http://www.denverart.org/calendar.htm#Robischon
Associate Professor Daniel Warner honored as Poster Master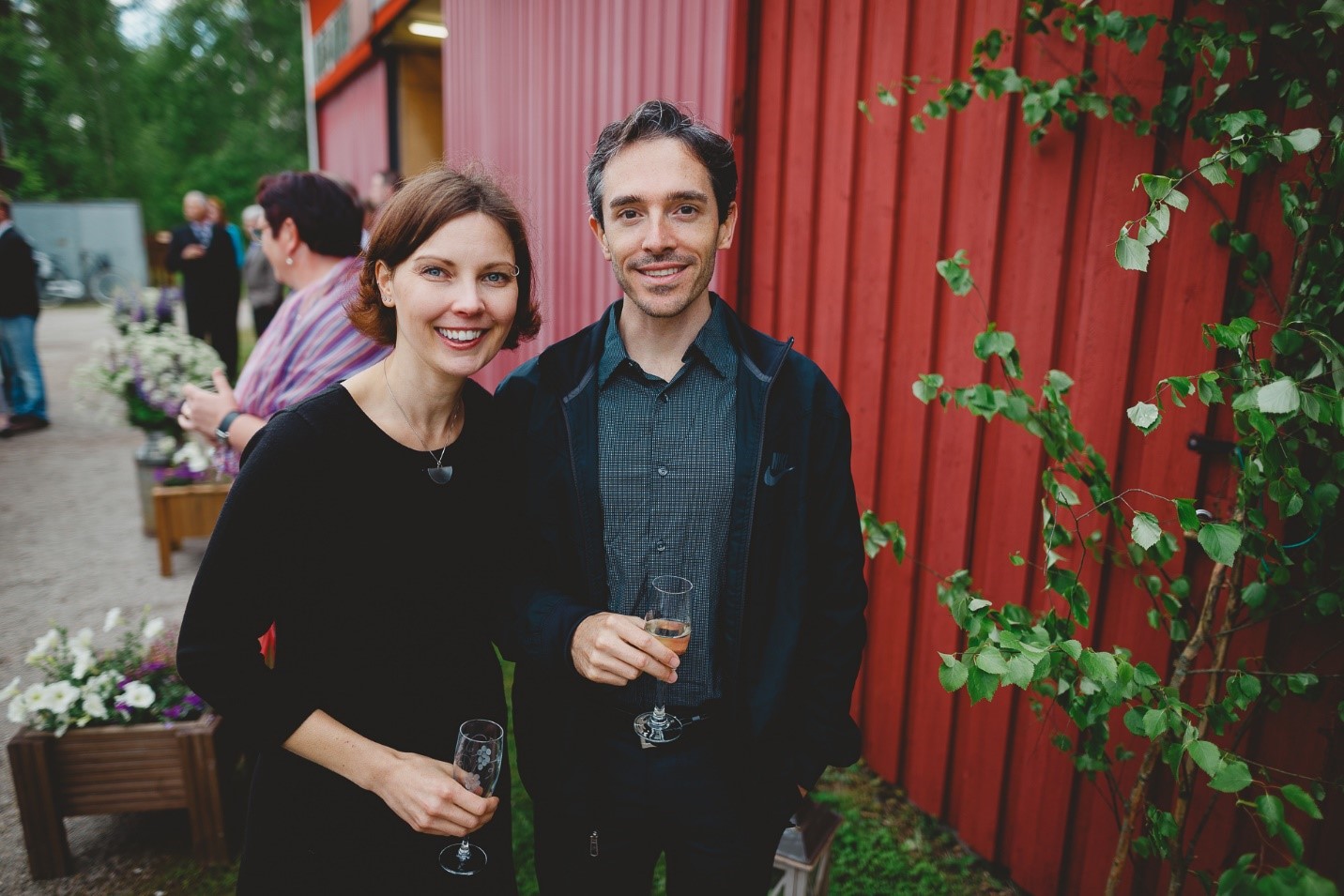 Daniel Warner was honored as a "poster master" for contributions to the field, with feature, interview, etc. at the design community's central hub for the format, posterposter.org
Among the 18 international designers who currently share this honor are Stephan Sagmeister, Paula Scher, Milton Glaser, Pablo Kunst, Peter Bankov, Yossi Lemel, Gotz Gramlich, Andrew Lewis, James Verdesoto and others.
Masters:
http://www.posterposter.org/masters/
Current Feature:
http://www.posterposter.org/
Ceramics Professor, Nick Geankoplis, Article is published in Studio Potter Magazine Summer/Fall Edition
Grad Student selected as Art Editor for Touchstone Magazine.
Kehinde P. Osho, a graduate student in the Master of Fine Arts, Graphic Design program, was selected as the art editor for the upcoming edition of Touchstone Magazine. Congratulations!!
A Bachelor of Arts in Ceramics alumna was featured in several Kansas City publications this summer.
Emily Reinhardt, an alumna of KSU's Department of Art with an emphasis in Ceramics, was featured in the August 2017 edition of HERLIFE Magazine, and June's edition of 435 Kansas City's Magazine. Dive into articles and read about Rienhardt and her Object Enthusiast.
Summer 2017
Associate Professor of Art Jason Scuilla exhibits new electrolytic etchings in Venice, Italy during the 2017 Venice Biennale
The Venice Biennale is one of the most famous and prestigious cultural events in the
world. It stands at the forefront of research and promotion of new contemporary art
trends, exhibitions, and research. A leading showplace for contemporary art and the
international avant-garde, it typically attracts more than 500,000 visitors. To coincide
with the Biennale, commercial galleries and museums throughout Venice feature
internationally recognized art and artists. In Summer 2017, Associate Professor of Art
Jason Scuilla was invited by Galleria Latteria Moderna to exhibit Scuilla Sestieri a solo
exhibition of new electrolytic etchings, as one of its 2017 Venice Biennale Printmaking
Exhibitions.
Read more.
International Solo Exhibitions of this caliber are amongst the highest recognized achievements in the fine art printmaking field. The artwork Scuilla exhibited was based on research done while in residence on fellowship at the Scuola Internazionale di Grafica in Venice, Italy. Each print was hand drawn and etched using a unique electro-chemical process he's developing at Kansas State University through a federally funded National Endowment of the Arts grant. The exhibition brought increased international awareness to this innovative, interdisciplinary K-State Arts and Sciences collaboration taking place between Scuilla's print studios and Dr. Stefan Bossmann's chemistry labs.

Scuilla1_150.jpg – Scuilla Sestieri, Galleria Latteria Moderna, Castello, Venice, Italy. Mario
Teleri Biason, Gallery Director (left), Jason Scuilla (right).

Scuilla2_150.jpg – Scuilla Sestieri, Galleria Latteria Moderna, Castello, Venice, Italy.

Scuilla3_150.jpg – Scuilla Sestieri, Galleria Latteria Moderna, Castello, Venice, Italy.

Scuilla4_150.jpg – Scuilla Sestieri, Galleria Latteria Moderna, Castello, Venice, Italy.

Scuilla5_150.jpg – Scuilla Sestieri, Arsenale, electrolytic etching, 12x9", Jason Scuilla,
2017.