News & Announcements
February 2018
Living Democracy in Print at Kemper Gallery in the Union
Print Reception at Kemper Gallery is Friday, February 16th, from Noon-2pm.
The K-State Prairie Fire Printmakers* and a team of 44 K-state art students collaborated on a series of over 400 screen-print posters addressing issues of democracy, freedom, diversity and unity. The artists behind this project aim to inspire inclusivity, respect and improvement among the K-State family and Manhattan community.
This exhibit is contributing to the conversation of Living Democracy, a program that helps students explore civil discourse, social justice and democracy. The prints will be on display at the William T. Kemper Art Gallery, in the K-State Student Union, beginning at 11 a.m. Tuesday, Feb. 13. The space will promote discussion around the issues and remain as a backdrop for future events.
A reception is scheduled for this Friday 12 - 2 p.m. Friday, Feb. 16, at the William T. Kemper Art Gallery. Join the discussion and meet the artists behind this project.
* This exhibition will also introduce the K-State Printmaking club's new name, logo, and mission statement (formerly Pussycat Press)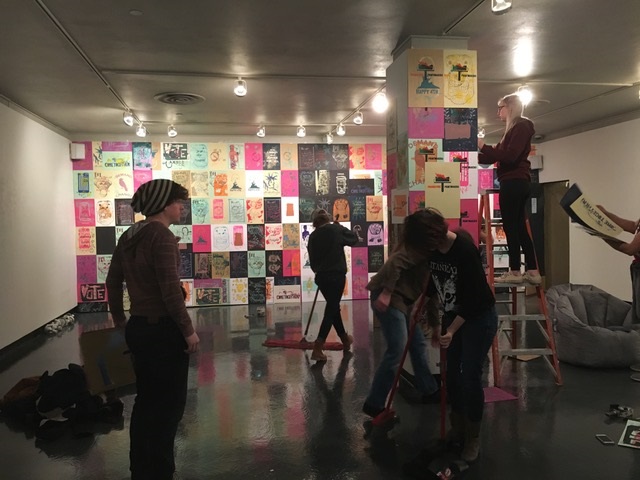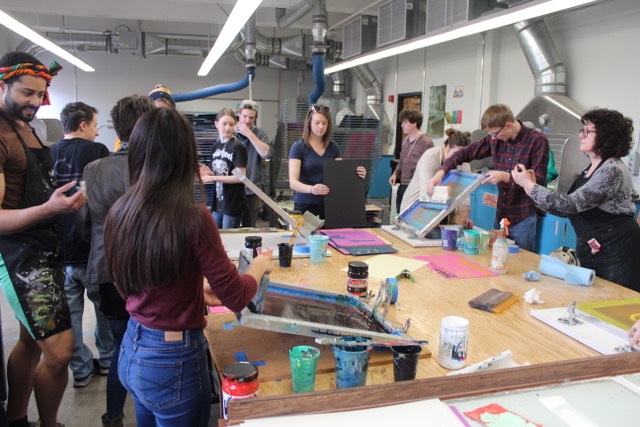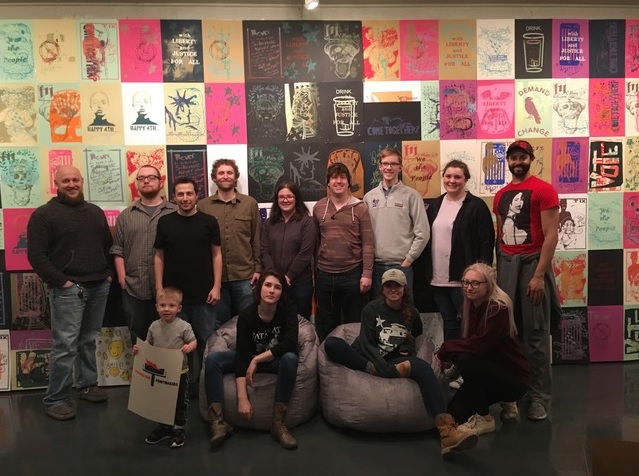 After the Burn: Artist Talk by Erin Wiersma
Artist Talk at The Beach Museum on Feb. 8th @ 5:30-7PM.
Erin Wiersma is an artist who has consistently explored—and pushed—the boundaries of drawing as a fully realized artistic expression. Wiersma's new and ongoing works draw from the Konza Prairie, becoming both the medium and subject matter. This talk is a Prairie Studies Initiative program.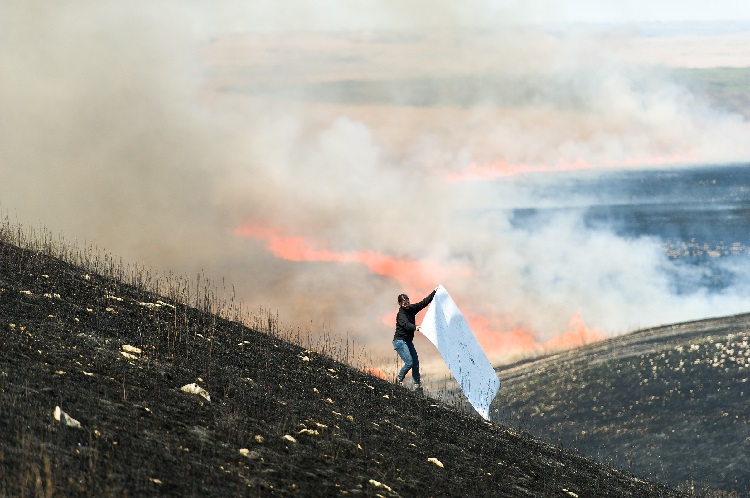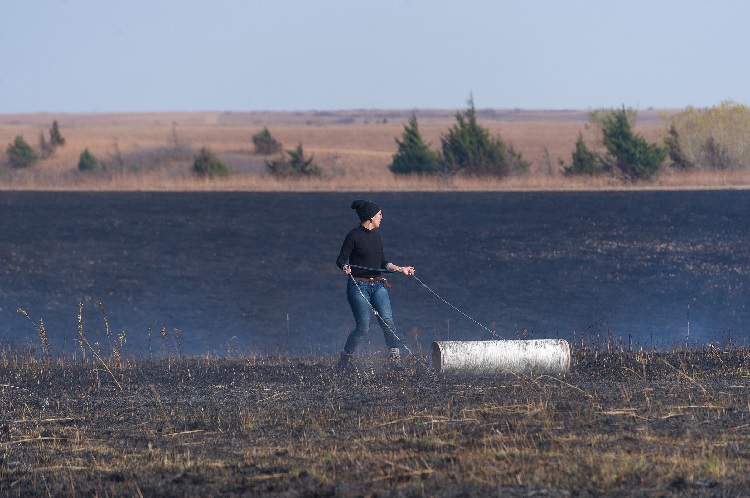 Professor Craig among artists awarded medical school art commission
Geraldine Craig, professor of art and associate dean in the Graduate School, has been awarded a commission with Nelson Smith to create a new work of art for the University of Kansas Medical Center, Salina campus.
The 28-feet-long mixed media wall work titled "Pulse" has rootedness as an important central concept. They plan to incorporate old sewing patterns from the community into the work, layered to build up a surface that suggests the architecture of the body. It also refers to soil and life underground, conceived as embedding collective roots and community spirit in the work. The panels of layered patterns will be interspersed with painted panels and poetry text panels burned into silk organza. Their proposal was selected from a national competition in fall 2017. Read More....
January 2018
Announcing Awardees of the New Prints Artist Development Program, 2018/Winter
Marco Hernandez, an MFA Printmaking Graduate Alumni, is a winner of the prestigious artist development prize at the International Print Center New York. Click here for more information.
AY 2017-2018
Board of Regents Exhibits Printmaking Professors Work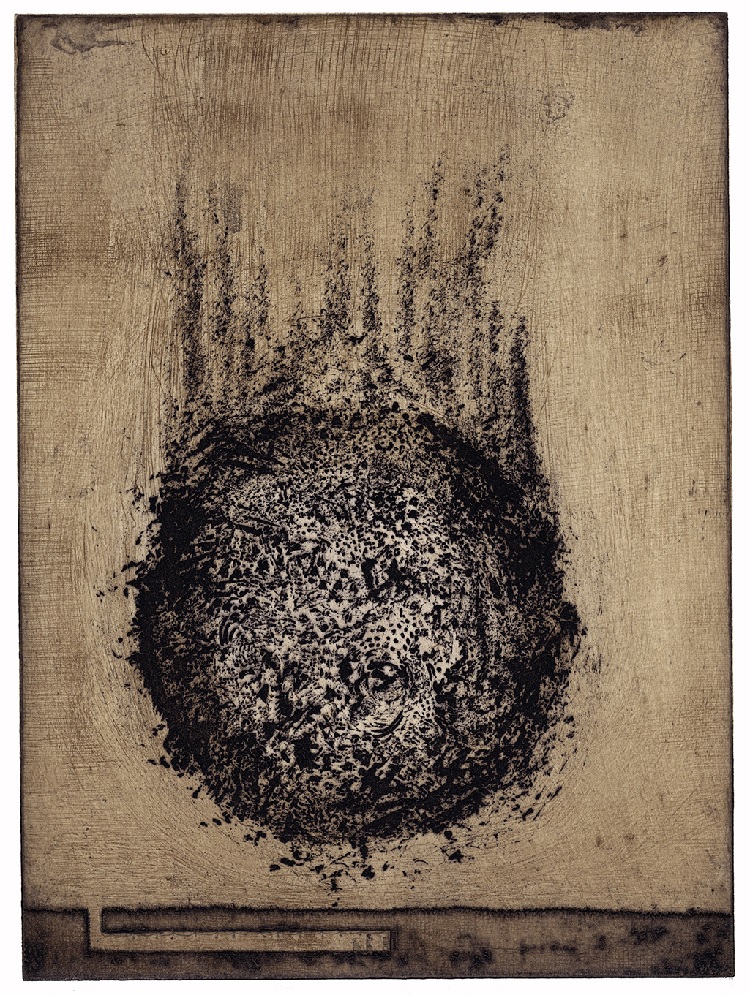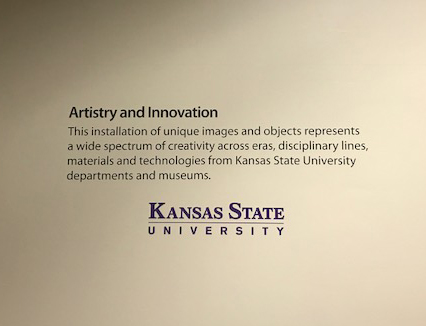 Every year the Kansas Board of Regents invites one of the state universities to provide a display of art and creative work. This 2017-18 year will feature work from Kansas State University. The display "Artistry and Innovation" features both individual and collaborative projects and provides a small sampling of Wildcat research and discovery. Among other University faculty featured, Professor of Printmaking Jason Scuilla's contributed examples of printmaking created through a non-toxic electrolytic etching process developed in a collaboration chemistry professor Stefan Bossmann.
https://www.k-state.edu/today/announcement.php?id=36596